Owned newly developed micro-fiber polypropylenemelt-blown thermal insulation material (TEDA Mian),TEDA Filters has beendesignated as the supplier of thermal-wear uniform for the People's LiberationArmy and the Military Police of the People's Republic of China and made a contributionto ChineseNational Defense Modernization. TEDA Mian has two series of productincluding mono-component and bi-component .They have the superior property oflight-weight, thin, soft, breathing and moisture-resistant while also express fluffyand elastic trait.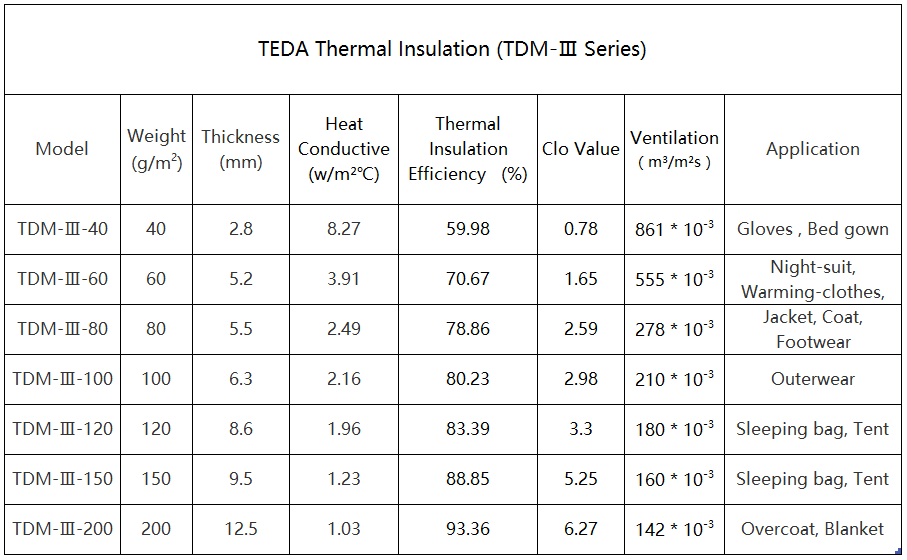 Note:
Thickness is tested under pressure at 0.002PSI(14g/cm²)
Width available: 1.55meters (60inches)
Material Composite: PP & PET
Rate of moisture regain≤1%
The product can be provided in the form of laminating with machine-weavedor shuttle weaved fabric to produce garments and also can be available withSpun bond scrim on one side or both sides of the insulation .
Tested by TESTEX CO.,Ltd and complied with Oeko-Tex Standard 100 class I and it isavailable for babies and small children as well as an absolute green product.It features light, thin, soft, high thermal insulation efficiency, washable,compressible, damp-proof and can provide a high breathability.