Instruction of DisposableParticulate Respirator
【product name 】: Disposable Particulate Respirator

【Model No】TEDA-P0652(FFP2)
【Primary Structure】mainly made of PP non-woven fabrics and melt blown filter material
【Instructions】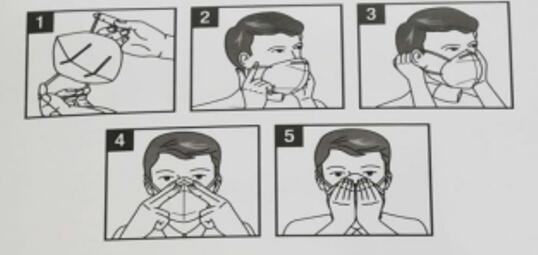 1. Remove the mask and gently pull the mask ears Band.
2. Place the nose clip on the bridge of the nose.
3. Hang the ear band on your ear; adjust the ear band to a comfortable state.
4. Use your forefinger and middle finger to press the nose clip to make it close to the face.
5. Mask with both hands to check its tightness.
【Storage requirements】
1. Store in a ventilated, dark and dry environment. Keep away from fire and pollution.
2. Storage temperature and humidity:-30℃-40℃ and relative humidity is less than 90%.
3. Shelf life: 3 years
【Explanation about sign and Symbols】

【Note 】
1. This product is single use only (NR).
2. Avoid folding after use, causing damage to the nose clip and affecting the air tightness of the mask.
3. When breathing resistance increases, replace the mask immediately.
4. Patients with severe respiratory disease, cardiovascular disease and pregnant women should use this mask with caution.
5. The product is complying with the BSI COVID-19 filtering face piece technical specification, for COVID-19 masks for use by healthcare workers. Application Regulation: PPE Regulation (EU) 2016/425
6. Executive standard technical specification:BSI's PPE for Healthcare Professionals 2020/403 – RPE Technical Specification.
【Notified body 】

BSI Group - NB 2797
The Netherlands BV, Say Building, John M Keynesplein 9,
1066 EP, Amsterdam, Netherlands
【Manufacturer 】TIANJIN TEDA FILTERS CO LTD
【Address】NO.45,the 7th xinye street ,west zone of TEDA ,Tianjin ,300462 China
【Email address】export@tedafilters.com
【Website】www.tedafilters.com