TEDA Filters also manufacturer PBT, PET and PPS melt-blown filter media for some high-temperaturefiltration applications. For example: PBT melt-blown can be used in very highworking temperature at 140℃for long term, and PPS melt-blown can perform the same at 260℃ for long time.They are all suitable for high-temperature air or liquid filtrations.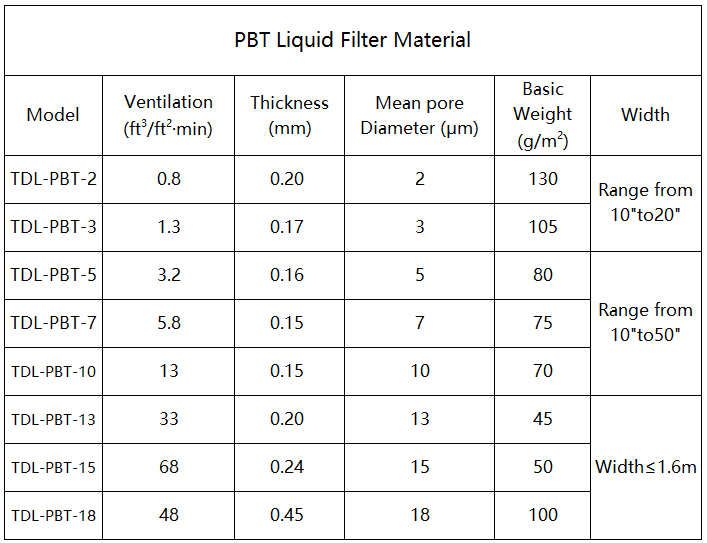 Note:
Made from PBT;Goodresistance of high temperature, acid and alkali. High filtration efficiency,high flow,powerful capacity of dirt holding.Non-poisonous, and long service life.
PBT meltblown for liquid filtermaterial
Using advanced imported meltblown production equipment, meanwhile usingimported high-performance PBT resin. After years of research and developmentand improvement, The TEDA Filters manufacturing of PBT meltblown nonwovenmaterials have achievement of higher technical level, It can replace theimported PBT melt-blown materials. The nonwoven fiber thin and soft by PBTmeltblown method, and combined with powerful capacity of dirtholding,good resistance and high temperature,it has a good application prospectin automotive fuel filter and oil-water seperator. Because of its specialperformance at the same time, also can be used to air and liquid filtration inparticular field.
The diameter of micropore,the mostimportant technical indicator of the product,is testedby TOPAS PSM-165 test apparatus which can automatically print out of "differential pore number distribution". Wealso use TOPAS to monitor the semi finished products and check the end productsin order to warrant the stability and consistency of the material,besides pore size,other technical indicatorssuch as thickness,Fraizer and so on are also tested andmonitored strictly. Thus,all the parmeters can becontrolled accurately to meet the unique requirements of customers.